Register Buyoutee picks nose in defiance
Tuesday, August 7, 2007 at 10:55 p.m.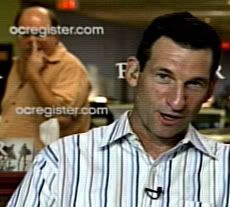 This just in: C.P. Smith, an OC Reg A1 editor ( who is reportedly on his way out via buyout) got behind Register reporter John Gittelsohn as he was taped for a KOCE broadcast - and purposefully picked his nose for all to see.
This ticked off news director Michael Taylor, who issued a memo that somehow found its way to -gasp- LA Observed.
Read it after the cut.
In other Register news, the Times had a piece on the layoffs today.

Dear Colleagues,

We had an incident occur with a Register employee that is frankly inappropriate and unacceptable.

During an interview, which will air tonight, with Register reporter John Gittelsohn another Register employee walked over to the interview area, intentionally stood behind John, faced the camera, picked his nose, and wiped it on his shirt.

Unfortunately, this was part of our live-to-tape 30 minute broadcast which airs tonight at 6:30 for all to see. It is also scheduled to be posted on the Register website after it airs on Real Orange. I have attached a video still image for you to see right now.

I've spoken with Register Broadcast Engineer Don Nebel about this individual. Don has stated that when the lights for the camera go on and we begin interview segments, this individual makes it a point to be loud, disruptive, and perform antics for the camera. Don has "waived him off" on numerous occasions, however he continues to disrupt our segments and has now escalated his attempts to embarrass both KOCE and the Register.

We cannot continue to conduct interviews from the Register newsroom, with this employee present. I do not want to cancel the next 4 segments we have scheduled this week at the Register, nor do I want to ask Register reporters to take valuable time out of their day to travel to our studio to avoid this disruptive employee. But I will have to do one or the other, until I can be assured that this employee is no longer going to be a problem.

Michael Taylor News Director, KOCE-TV
Get the ICYMI: Today's Top Stories Newsletter Our daily newsletter delivers quick clicks to keep you in the know
Catch up on the day's news and stay informed with our daily digest of the most popular news, music, food and arts stories in Orange County, delivered to your inbox Monday through Friday.
Recommended for You
Powered by SailThru