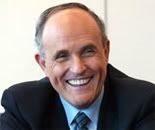 Mitt Romney may like him some outdoor barbecue and bouncy houses, but it seems that Rudy Giuliani prefers breakfast as his OC fund-raising venue. However, those eggs and bacon will cost you -- got $2,300 or more? Want to blow it all on a photo op with Rudolph the Red-Nosed Frontrunner? Then get your butt over to the Anaheim Hilton at 777 Convention Way tomorrow morning by 8.
If you like this story, consider signing up for our email newsletters.
SHOW ME HOW
X
Newsletters
And to think, Star Trek fans get mocked for dropping $50 on pics with Shatner.