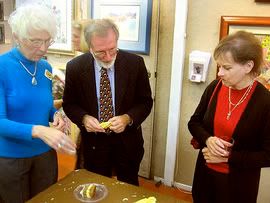 It was purely an urge to reunite with my pal Gail Stahl that led me to the Art Walk in Laguna Beach on Thursday night. Although I was tired and hesitant, my friend-since-first-grade, Mike Michika and I piled into the car of my cousin and namesake, Billy Joe Agan - heading south along the 5 freeway to immerse ourselves in this Laguna Beach tradition.
Gail and I embraced. We had arrived late of course, but just in time to scrounge up the last of the wine, delectable hotdog weenies and delicious carrot cake. I had to put my vegan binge at Wheel of Life on hold - thus, my reluctance to this free food substitution. But how could I refuse these treats when they were offered with such beaming smiles from such charming older women? So happy to meet me and show me their works of art. One woman in particular, Wally, was very charming and very sweet. "Take a look around my dear," she smiled.
Wine in hand, I gingerly made my rounds to several randomly selected pieces, Gail at my side. As always, she was charming and full of stories to bestow upon Mike, Billy and myself. We listened intently. She has that way of bringing you into a story. Her eyes sparkled. "I'm going to tell you a little secret," she whispered. "Did you know that Norman Rockwell traced his artwork?!" We laughed and sipped our wine.
If you like this story, consider signing up for our email newsletters.
SHOW ME HOW
X
Newsletters
We left shortly after to mingle around the other art galleries. Some of it was interesting. Some was not.
"Obviously that person missed the class lecture about Jackson Pollock," Billy snickered. Then almost immediately he exclaimed, "Look! It's a dinosaur!"
The three of us leaned in closer with squinted eyes, lost in the conglomerate of splashes and blotches. Then, almost in unison, we busted up in uproarious laughter! A few unintentional brush strokes on canvas had created a red-faced, cartoon dinosaur, much to our amusement. Suddenly we were made aware that everyone around us was not so amused with our imaginations. We finished the rest of our wine and headed back to the car.
Beauty is in the eye of the beholder--as are visions of dinosaurs in unlikely places.