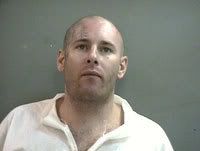 This afternoon Superior Court Judge William Froeberg sentenced convicted killer Jacob Rump, a 30-year-old Orange County gangster, to life in prison without the possibility of parole for a 2002 ambush murder in Anaheim.
If you like this story, consider signing up for our email newsletters.
SHOW ME HOW
X
Newsletters
Details about the case involving Rump (pictured), who is a member of Public Enemy Number One (PENI) Death Squad, can be found here, here and here. Deputy District Attorney Ebrahim Baytieh also won a conviction against Rump's white supremacist cohort, 32-year-old Michael Allen Lamb, but a jury could not agree on Baytieh's death penalty request. The prosecutor will ask another jury next year to give Lamb a one-way ticket to California's notorious San Quentin State Prison.