PENI Gangster Won't See Freedom Again
Friday, October 5, 2007 at 4:16 p.m.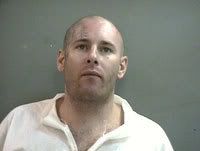 This afternoon Superior Court Judge William Froeberg sentenced convicted killer Jacob Rump, a 30-year-old Orange County gangster, to life in prison without the possibility of parole for a 2002 ambush murder in Anaheim.
Details about the case involving Rump (pictured), who is a member of Public Enemy Number One (PENI) Death Squad, can be found here, here and here. Deputy District Attorney Ebrahim Baytieh also won a conviction against Rump's white supremacist cohort, 32-year-old Michael Allen Lamb, but a jury could not agree on Baytieh's death penalty request. The prosecutor will ask another jury next year to give Lamb a one-way ticket to California's notorious San Quentin State Prison.
Get the ICYMI: Today's Top Stories Newsletter Our daily newsletter delivers quick clicks to keep you in the know
Catch up on the day's news and stay informed with our daily digest of the most popular news, music, food and arts stories in Orange County, delivered to your inbox Monday through Friday.
Recommended for You
Powered by SailThru