PENI Gangster Won't See Freedom Again
Friday, October 5, 2007 at 4:16 p.m.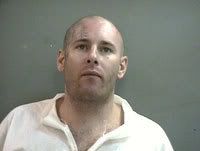 This afternoon Superior Court Judge William Froeberg sentenced convicted killer Jacob Rump, a 30-year-old Orange County gangster, to life in prison without the possibility of parole for a 2002 ambush murder in Anaheim.
Details about the case involving Rump (pictured), who is a member of Public Enemy Number One (PENI) Death Squad, can be found here, here and here. Deputy District Attorney Ebrahim Baytieh also won a conviction against Rump's white supremacist cohort, 32-year-old Michael Allen Lamb, but a jury could not agree on Baytieh's death penalty request. The prosecutor will ask another jury next year to give Lamb a one-way ticket to California's notorious San Quentin State Prison.
Get the This Week's Top Stories Newsletter
Every week we collect the latest news, music and arts stories — along with film and food reviews and the best things to do this week — so that you'll never miss OC Weekly's biggest stories. Every week we collect the latest news, music and arts
In Case You Missed It