OCTA wants to party with you
Wednesday, August 15, 2007 at 7:15 p.m.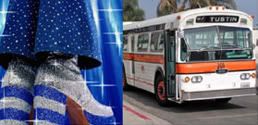 Been riding those darn buses since 1972? Then you might be one of 35 special people who gets to party with OCTA - which is celebrating 35 years of hauling fat OC ass across the county at the end of the month.
Party place: The Fullerton Transportation Center, 120 E. Santa Fe Ave, where the bus system was born.
Theme: The 70's (surprise, surprise).
Details: Here.
Get the ICYMI: Today's Top Stories Newsletter Our daily newsletter delivers quick clicks to keep you in the know
Catch up on the day's news and stay informed with our daily digest of the most popular news, music, food and arts stories in Orange County, delivered to your inbox Monday through Friday.
Recommended for You
Powered by SailThru