OCTA wants to party with you
Wednesday, August 15, 2007 at 7:15 p.m.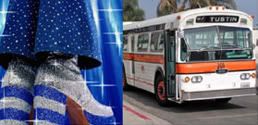 Been riding those darn buses since 1972? Then you might be one of 35 special people who gets to party with OCTA - which is celebrating 35 years of hauling fat OC ass across the county at the end of the month.
Party place: The Fullerton Transportation Center, 120 E. Santa Fe Ave, where the bus system was born.
Theme: The 70's (surprise, surprise).
Details: Here.
Get the This Week's Top Stories Newsletter
Every week we collect the latest news, music and arts stories — along with film and food reviews and the best things to do this week — so that you'll never miss OC Weekly's biggest stories. Every week we collect the latest news, music and arts
In Case You Missed It