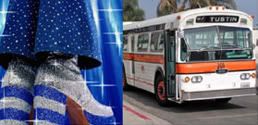 Been riding those darn buses since 1972? Then you might be one of 35 special people who gets to party with OCTA - which is celebrating 35 years of hauling fat OC ass across the county at the end of the month.
Party place: The Fullerton Transportation Center, 120 E. Santa Fe Ave, where the bus system was born.
Theme: The 70's (surprise, surprise).
If you like this story, consider signing up for our email newsletters.
SHOW ME HOW
X
Newsletters
Details: Here.