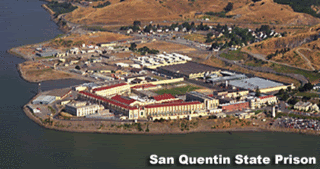 Just before lunch today, the jury in the Michael Allan Lamb murder case announced itself "hopelessly deadlocked" on whether the Public Enemy Number One (PENI) Death Squad member deserved the death penalty.
The vote was nearly tied after almost three days of deliberating. Six jurors wanted death; five wanted life in prison without the possibility of parole; and one person remained undecided.
Lamb kept silent, but studied his fingernails after the decision. Throughout the three-month proceeding, the 33-year-old hit man always appeared nonchalant. He was lighthearted even when the same jury convicted him on July 10 of the murder of a fellow gang member and the attempted murder of an Anaheim police officer. But when deputies hauled him back to jail, he turned to his mother in the audience and contorted his face into a huge smile. Cathy Lamb, portrayed by her son's defense as a longtime alcoholic who drank hairspray when she couldn't afford cheap booze, nodded happily.
Before jurors were excused, Orange County Superior Court Judge William R. Froeberg asked the foreman if there was "anything" the court could provide that might help the panel "resolve" its deadlock. The foreman, a middle-aged man, quickly replied, "No, sir."
Froeberg then questioned individual jurors if they agreed with the foreman, and there was one surprise. It sounded like Juror No. 3--a Latina who looked to be in her late twenties or early thirties--softly volunteered that she didn't believe in the death penalty. She was one of four jurors who quickly left the courtroom unwilling to answer any questions.
If you like this story, consider signing up for our email newsletters.
SHOW ME HOW
X
Newsletters
It's likely that Deputy District Attorney Ebrahim Baytieh, the veteran prosecutor on the case, will retry the penalty phase with a new jury after an Aug. 21 hearing. Baytieh believes Lamb will kill or seriously injury other inmates or guards with a life sentence. He wants to send him
to California's notorious death row at San Quentin State Prison. Until a decision is made, Lamb will continue to reside in the relative comfort of the OC Jail.
PENI's white supremacist gang members haven't had much luck avoiding law enforcement in recent years. That's no surprise. Many--if not most--are addicted to heroin, methamphetamines and Hilter, according to OC gang cops. The combination makes for bad teeth, worse manners, awesome tattoos but less than graceful social skills.
Jacob Anthony Rump--Lamb's pal in the murder and attempted murder case--is scheduled to be sentenced on Aug. 31. Like many Orange County judges, Froeberg is not known for dishing out light punishments. Rump, 31, faces a possible life in prison without the possibility of parole.
For previous coverage of the case, see "White Power With a Lisp."