OC Register Disses the Angels' G.A.
Wednesday, August 22, 2007 at 2:04 p.m.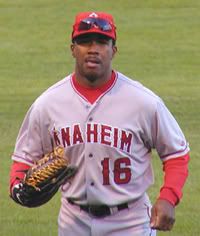 Quite a night last night for Garret Anderson, who socked in a club record 10 ribbies for the Angels in their 18-9 thrubbing of the hapless Yankees, who they totally OWN (the Halos are the only MLB team with a winning record against the pinstriped peckerwoods during the Joe Torre era). Included in G.A.'s stats were two home runs, one of them a grand slam -- in his final at-bat, the man was a three-run homer short of breaking the all-time single-game RBI record.
A big deal, for sure. So how did the local press play it? The LA Times did it up huge -- a front-page A1 color photo teasing the story in the sports section, and once you flipped there, a good-size banner headline above the fold. Then we picked up today's OC Register, and could've sworn the two daily rags had switched geographies -- nothing but a small, below-fold blurb on A1, and on the front sports page, a standard report on the game, as if 10 ribbies smacked by one player in a single game was a perfectly ordinary event (it's not; a 10+ RBI game is rarer than a pitcher hurling a perfect game).
The kicker: at the top of the Reg sports section was a report on yet another loss by the rapidly-disintegrating LA Dodgers. Yeesh!
Get the ICYMI: Today's Top Stories Newsletter Our daily newsletter delivers quick clicks to keep you in the know
Catch up on the day's news and stay informed with our daily digest of the most popular news, music, food and arts stories in Orange County, delivered to your inbox Monday through Friday.
Recommended for You
Powered by SailThru