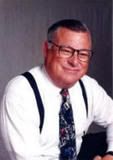 Serena Maria Daniels should find garlic cloves to place around her neck.
This morning, the Register reporter broke the news that Buena Park minister WIley Drake is looking to cast evil, lethal spells on his perceived enemies. What's got Drake pissed this time? Apparently, he's angry with two staffers at the Washington, D.C.-based Americans United for Separation of Church and State. They've allegedly exposed the colorful Orange County preacher's legally dubious plot to assist the Mike Huckabee for President campaign.
The story claims Drake (pictured while greatly enjoying the dark thoughts that rumble through his head) responded to the revelations by issuing a statement that read in part, "In light of the recent attack from the enemies of God I ask the children of God to go into action with Imprecatory Prayer."
According to Daniels, Americans United this week asked the Internal Revenue Service to investigate the controversial pastor, alleging that he violated federal tax law.
In 2003, Drake told the Weekly's Matt Coker he was exploring the idea of running for president the following year in hopes of restoring the "Mayflower Pact."
If you like this story, consider signing up for our email newsletters.
SHOW ME HOW
X
Newsletters
"When I am president, we would have freedom of religion, not freedom from," he told Coker. "Don't like religious freedom? Go somewhere else! Some of my Christian friends feel we are 'post-Christian.' Not so. Jesus is still King of America. Look in your pocket: 'In God we trust' [is printed on] money. We still pray in America. On 9/11, we prayed—no one said a thing. On Feb. 1, 2003, we prayed—no one said a thing. We will serve Jesus in this nation of our own free will, or He will put us on our knees. In a tower, in a shuttle, in Iraq or in our own hospital room, the God haters become wanna-be God lovers. We need to honor the God who made this nation great."