OC Lawyer Tossed From CA Republican Bribery Case
Wednesday, July 11, 2007 at 6:43 p.m.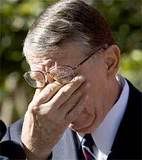 A federal judge in San Diego removed Mark Geragos from a sensational bribery case yesterday because the (in)famous Orange County-based defense lawyer refused to agree to a federal background check before receiving classified national-security-related data.
Geragos—who worked for convicted wife-and-baby-killer Scott Peterson, Michael Jackson and Winona Ryder—was attempting to represent defense contractor Brent Wilkes in a bribery case involving tearful, ex-Congressman Randy "Duke" Cunningham, according to the San Diego Union Tribune.
Along with Kyle "Dusty" Foggo, a childhood friend of Wilkes and formerly the third-highest official in the CIA, the two are charged with numerous counts of fraud, conspiracy and money laundering relating to the bribery scandal that brought down Cunningham.
The San Diego paper reported that Geragos may ask the 9th U.S. Circuit Court of Appeals to reverse the judges' order.
For decades, Cunningham was a highly praised conservative—especially among Orange County Republicans—before he admitted in 2005 he was a crooked politician who took millions of dollars in bribes on military matters.
Federal investigators say Cunningham secretly accepted more than $2.5 million from defense contractors who wanted favors from his lofty, arrogant position as a know-it-all Bible-thumping ex-soldier.
Get the ICYMI: Today's Top Stories Newsletter Our daily newsletter delivers quick clicks to keep you in the know
Catch up on the day's news and stay informed with our daily digest of the most popular news, music, food and arts stories in Orange County, delivered to your inbox Monday through Friday.
Recommended for You
Powered by SailThru