OC congressman: Japan must apologize for WWII sex
Wednesday, July 18, 2007 at 12:51 p.m.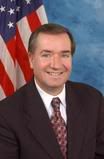 KNBC is reporting today that Orange County Republican Congressman Ed Royce thinks the Japanese government hasn't adequately apologized for converting 200,000 Asian women into sex slaves — or "comfort women" — for its soldiers during World War II. Though Japan's prime minister has already apologized, Royce wants more.
The LA-based television station reports that the Fullerton congressman has introduced House Resolution 121, which advises the prime minister to apologize once more in front of his nation's legislature, and then win approval of the sentiment from that nation's cabinet officers. Congress could take a break from fighting over Iraq and vote on the resolution by the end of July.
At lunch today, I overheard a conversation between some Japanese men. They might have been organizing a plan to get the U.S. cabinet to apologize to the world for George W. Bush. But they didn't appear to be hopeful.
Get the ICYMI: Today's Top Stories Newsletter Our daily newsletter delivers quick clicks to keep you in the know
Catch up on the day's news and stay informed with our daily digest of the most popular news, music, food and arts stories in Orange County, delivered to your inbox Monday through Friday.
Recommended for You
Powered by SailThru