NYT profiles The Mexican
Monday, June 25, 2007 at 2:36 p.m.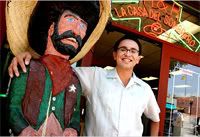 Two weekends back, The Mexican picked up the LA Press Club's President's Award. And just yesterday, Mireya Navarro of The New York Times gave his story some print time.
Some highlights:
In the process, "¡Ask a Mexican!" has turned its 28-year-old author into both a pundit, sought after by national news media to comment on all things Mexican, and a pariah.
Mr. Arellano, born in Anaheim to Mexican immigrants, one of them a father who crossed the border illegally several times starting in the 1960s, doesn't deny that his satire is not for everyone. "I use the column to give the straight dope but also be as rude as possible to people who deserve it," he explained. Accordingly, his responses often cite studies and statistics in a flurry of profanity. And he tackles some questions with the gusto of someone who not only wants to set the record straight but also wants to settle scores.

"My father was an illegal immigrant," he said. "My mom was a tomato canner. They live their lives in Spanish. My parents are the immigrants that conservatives hate."
Get the ICYMI: Today's Top Stories Newsletter Our daily newsletter delivers quick clicks to keep you in the know
Catch up on the day's news and stay informed with our daily digest of the most popular news, music, food and arts stories in Orange County, delivered to your inbox Monday through Friday.
Recommended for You
Powered by SailThru