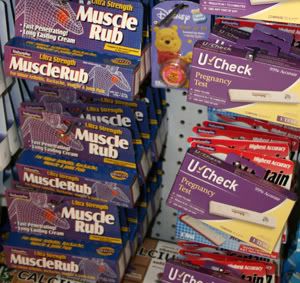 The 99 Cents Store in downtown Santa Ana is a magical place. Where else can you find a pregnancy test for less than a buck—and right next to the Muscle Rub, too?
Other cheapies:
If you like this story, consider signing up for our email newsletters.
SHOW ME HOW
X
Newsletters
"Electronically tested" condoms.
Candy still in Halloween packaging.
Salad.
Frozen seafood mix.
Milk that expires June 7.
Batteries.
Melons.
A Smokers' Skin Renewal Treatment packet.
"L.A.'s Totally Awesome Bleach." (No, really.)
And, of course, the Rachael Ray-endorsed Stoned Wheat Thins.