Noon at the 99 Cents Store
Tuesday, June 5, 2007 at 1:06 p.m.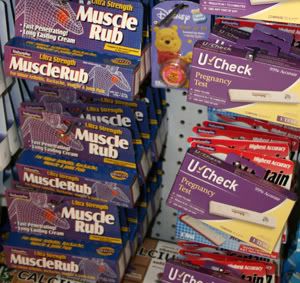 The 99 Cents Store in downtown Santa Ana is a magical place. Where else can you find a pregnancy test for less than a buck—and right next to the Muscle Rub, too?
Other cheapies:
"Electronically tested" condoms.
Candy still in Halloween packaging.
Salad.
Frozen seafood mix.
Milk that expires June 7.
Batteries.
Melons.
A Smokers' Skin Renewal Treatment packet.
"L.A.'s Totally Awesome Bleach." (No, really.)
And, of course, the Rachael Ray-endorsed Stoned Wheat Thins.
Get the ICYMI: Today's Top Stories Newsletter Our daily newsletter delivers quick clicks to keep you in the know
Catch up on the day's news and stay informed with our daily digest of the most popular news, music, food and arts stories in Orange County, delivered to your inbox Monday through Friday.
Recommended for You
Powered by SailThru