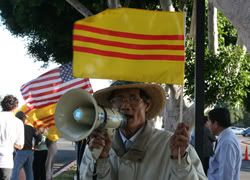 For the past month, OC Weekly staffer Nick Schou (with an assist from web editor Janine Kahn) has followed protests at Viet Weekly's Garden Grove offices by Vietnamese who accuse the paper of communist sympathies. Coverage of the protests by the Los Angeles Times and Orange County Register has been non-existent or sympathetic toward the protestors--until this weekend. That's when Times reporter Mike Anton parachuted into Little Saigon and filed a dispatch reporting the same points Schou did regarding exasperated Main Street vendors. We like Anton--who usually files on Orange County art for the Times--but the man should've cited Schou's work. In Anton's defense, he was probably unaware of our report, since the Times lost their Little Saigon reporter when Mai Tran accepted a buyout a couple of months ago.
The real sinner is Orange County Register reporter Deepa Bharath. The day after Anton's rip-off, Bharath parroted Anton and Schou's story with nary a mention of either. She has no excuse: Bharath is the Little Saigon reporter and kicked off the Viet Weekly protest coverage earlier this summer with a piece that could've been written by Van Tran's PR flack.
If you like this story, consider signing up for our email newsletters.
SHOW ME HOW
X
Newsletters
Why do we mention all this almost a week after it happened? Because the Times made up for its boo-boo today by printing Schou's op-ed on the Viet Weekly protests. Read it, and harass the Register into acknowledging the OC Weekly, damnit!