Most boring drink ever?
Friday, September 28, 2007 at 12:05 p.m.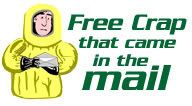 It's always tedious to hear health-freaks go on and on about the benefits of this or that special shake. But now there's a drink that gets right to the point, putting you to sleep all by itself.
(I thought such a thing already existed, and was called "whiskey." The things you learn in this job...)
So behold "dreamerz," billed as an "All Natural Sleep Beverage" and a "Dietary Supplement." The product's officially trademarked tagline is "Good Night, Better Day!", and the flavor, of course, is "chocolate s'nores." The allegedly active ingredients are "Lactium" (a registered trademark of some kind of milk protein), Stevia leaf, and Melatonin. Also, it's sweetened with "crystallized cane juice" rather than high-fructose corn syrup, which seems like a good thing.
Just in case you're stupid, the package also bears the following warning:
"Caution: May cause drowsiness."
Free crap photo behind the cut...
Get the ICYMI: Today's Top Stories Newsletter Our daily newsletter delivers quick clicks to keep you in the know
Catch up on the day's news and stay informed with our daily digest of the most popular news, music, food and arts stories in Orange County, delivered to your inbox Monday through Friday.
Recommended for You
Powered by SailThru