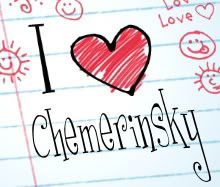 Chapman University announced just a few moments ago that it has locked in recently reinstated UCI Law School Dean Erwin Chemerinsky to be its law school graduation commencement speaker next year.
The announcement is the most recent illustration of Chemerinsky's quick ascension from ashy to classy.
Chapman is taking the high ground saying, not only is it ok with Chemerinsky's possible "polarizing" politics, it welcomes them. According to the release, Chapman Law dean John Eastman supports Chemerinsky's recent reinstatement as UCI's law dean and says he sees Chemerinsky's left-leaning politics as a challenge that will only make things more interesting.
If you like this story, consider signing up for our email newsletters.
SHOW ME HOW
X
Newsletters
Eastman is quoted in the release as saying, "I'm extremely pleased that Professor Chemerinsky will indeed become the dean of the new UCI law school, and that the 'freeway series' between Chapman, the county's top private law school, and UCI, the county's top public law school, will soon begin. I can't wait for the rivalry to start – it can only be good for Orange County. And to underscore the collegiality of the schools, we are delighted that Erwin will be our commencement speaker this coming spring."