Monday's Headlines & Surprises: Red Sky at Night
Monday, October 22, 2007 at 6:02 a.m.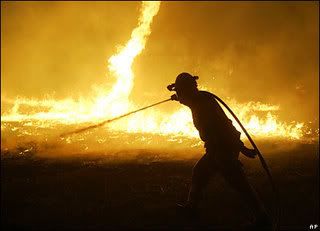 As the sun rose this morning over Orange County, a huge plume of smoke near Irvine painted the horizon an eerie orange, blue, brown and gray. Renewed Santa Ana wind gusts up to 45 mph whistled through neighborhoods, blew trash cans down streets and slammed into palm trees seemingly ready to pop from the ground. Fallen trees rested on top of cars in Santa Ana and Orange, and presented hurdles for other drivers. Pete Weitzner at Daybreak OC reported early today that government officials called the fire, which has quickly consumed nearly 9,000 acres, the work of a late Sunday afternoon arsonist. More than 400 fire fighters continue to battle the crisis and evacuated several neighborhoods including in North Tustin, Lemon Heights and Cowan Heights. Irvine's Northpark is in the path of the fire. Some roadways are closed including portions of the 241, 261 and 133. Thankfully, no injuries have been reported. Register photographers have done excellent work capturing images. The National Weather Service says "strong hot dry damaging" winds up to 85 mph will continue throughout Monday and will "slowly weaken" tonight. Ocean waves are expected to reach five and six feet. Officials also advise drivers to beware of blowing dust and sand that can drastically reduce visibility. Irvine resident Bryan Kerns told KCBS/KCAL last night, "I've never seen anything expand as rapidly as this thing has. In fact, it looks like it's winding its way down into the community there. It's unbelievable." 7:45 AM UPDATE: At a morning press conference, fire department officials say they've contained 30 percent of the blaze. -- R. Scott Moxley / OC Weekly
Get the ICYMI: Today's Top Stories Newsletter Our daily newsletter delivers quick clicks to keep you in the know
Catch up on the day's news and stay informed with our daily digest of the most popular news, music, food and arts stories in Orange County, delivered to your inbox Monday through Friday.
Recommended for You
Powered by SailThru