Mom as Murder Accomplice?
Wednesday, July 11, 2007 at 11:30 a.m.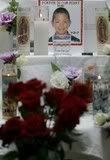 Hopefully mothers trying to be good to their sons won't follow in Eva Daley's footsteps. The Long Beach mom was recently arrested for allegedly driving her son and a group of friends to a park on June 25, so that they could retaliate against a 13-year-old boy over an earlier dispute, reports the LA Times. The boy, Jose Cano, was fatally stabbed when the group of teens allegedly descended on him after Daley dropped them off at the park. Daley's 14-year-old son and seven other teens were also arrested in connection with the stabbing. As for Daley, she's being held on $1 million bail and is facing murder charges according to the AP.
Photo: Memorial for Jose "Bobby" Cano. (Luis Sinco/LAT)
Get the ICYMI: Today's Top Stories Newsletter Our daily newsletter delivers quick clicks to keep you in the know
Catch up on the day's news and stay informed with our daily digest of the most popular news, music, food and arts stories in Orange County, delivered to your inbox Monday through Friday.
Recommended for You
Powered by SailThru