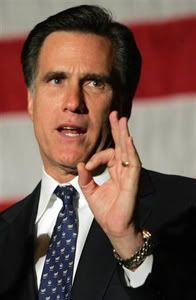 Former Massachusetts governor and current presidential candidate Mitt Romney will be at Chapman University on Sunday to participate in a forum called, "Ask Mitt Anything!"
Anything, huh? Y'know, Romney's an interesting critter in the ever-more-frayed-and-teetering Republican big tent. He's a "Person of Faith," which could appeal to those so-called values voters—except he's a Mormon, which has been a topic of discussion on the religious Right. Be interesting to see if some Evangelical posts him up on this at the forum.
And OC being such a hotbed of anti-Mexican nativist Know-Nothingdom, you have to wonder if Romney's family ties to Mexico might prompt a question or two along these lines:
"Your grandparents were polygamists who fled to Mexico to avoid punishment by the US Government in 1884 after the Supreme Court upheld various anti-polygamy laws. Your father was then born in Mexico and fled to the U.S. during the Mexican Revolution. That being said, what are your views on marriage and immigration?"
Nah, probably not. Electability trumps all other concerns, and, I mean, just look at that hair! That is very, very electable hair.
If you like this story, consider signing up for our email newsletters.
SHOW ME HOW
X
Newsletters
The question-and-answer session will take place in the Paul and Daranne Folino Theatre. Around 500 seats are available to the public. For more information visit California@MittRomney.com.