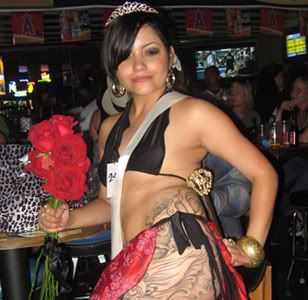 Inked-up dames and the fellas who love 'em headed out to the first annual Miss Surf City Tattooed Lady contest at the Surf City Saloon in Huntington Beach on Sunday. The strip mall block party included Saloon neighbors 13 Bones, One Stop Smoke Shop, Hair International Salon, and Sick Dogs Tattoo.
By the time the all-day event wound down and the winner was crowned just before 6 p.m., most of the crowd (and the contestants) were feeling the effects of the free booze and food.
If you like this story, consider signing up for our email newsletters.
SHOW ME HOW
X
Newsletters
Click the image for photos from the event.