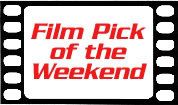 I have a three-way pick today.
For those of you reading this locally, the best filmgoing experience for your buck this weekend is THE ELEPHANT KING, at the SoCal Independent Film Festival, Saturday night at 7 p.m. at the Huntington Beach Library. It's a movie that has everything you need -- dreamy visuals, relationship insights, human drama, hot sex, Thai rock 'n' roll, some boxing, a li'l gunplay, and a great supporting performance by an elephant. Only six dollars, too.
If that doesn't fit your schedule, however, word is that SHOOT 'EM UP is an insanely awesome, over-the-top actioner so absurd it's genius. Haven't had a chance to see it yet, but the mere notion that it involves scenes like Clive Owen delivering a baby and then cutting the umbilical cord by shooting it, or offing villains using his firearms while actually penetrating Monica Bellucci with his, uh, "other" loaded weapon...well, you either dig that or you don't. I'm anxious to check it out when time allows.
If you like this story, consider signing up for our email newsletters.
SHOW ME HOW
X
Newsletters
I'm also excited about THE BROTHERS SOLOMON, a Bob Odenkirk-directed comedy starring Will Arnett and Will Forte as two home-schooled buffoons desperate to have children before their father dies, despite the fact that they're so obnoxious no woman will come near them. I can relate, kinda...but then again, I also seem to be the only person who enjoyed Odenkirk's last directorial outing with Arnett, LET'S GO TO PRISON, so take that for what it's worth.