LYT in USA Today
Monday, July 30, 2007 at 7:57 p.m.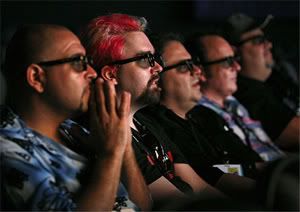 Weekly investigative reporter extraordinaire Scott Moxley just informed me that our fab Comic-Con blogger - LYT - made today's edition of USA Today.
His rainbow 'do is apparently a camera magnet. That's not too surprising. Couldn't help snapping a few of him myself. And Luke was sitting at Hall H for hours on end...an easy target.
Photo via USA Today.
The article's titled "It's Good to be a Geek at Comic-Con."

Get the ICYMI: Today's Top Stories Newsletter Our daily newsletter delivers quick clicks to keep you in the know
Catch up on the day's news and stay informed with our daily digest of the most popular news, music, food and arts stories in Orange County, delivered to your inbox Monday through Friday.
Recommended for You
Powered by SailThru