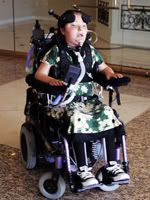 Back in 2002, I wrote about Leilani Gutierrez, a four-year-old girl who was paralyzed in a Costa Mesa car accident. The Chevy Suburban van her and her mother, June, were riding in was broadsided by Michael Leinert, who had run a red light at the corner of Newport Blvd. and Wilson St.. After the initial impact, the van was sent careening into a utility pole.
Leilani is also the daughter of OC musician Rodney Sellars (Sense Field, Year Zero), and the OC music community stepped up - several benefit shows were held to help defray Lelani's medical costs, one of which took place at Chain Reaction and featured sets from Sense Field, Gameface and Crashcart.
Five years on, Leilani has endured a lot: 250 days in hospitals, more than 20 surgeries, a bone graft, spinal cord treatments and a tracheotomy. Horrible, for sure, but at least it doesn't look like she'll have to have anymore benefit concerts -- yesterday, she was awarded a cool $55 million from the federal government, who had employed Leinert. The judgment is believed to be the largest ever awarded in a personal-injury case in OC history. Leilani's attorney, Wylie Aitken, said "She earned it in the worst possible way."
If you like this story, consider signing up for our email newsletters.
SHOW ME HOW
X
Newsletters
Photo: LATimes.com