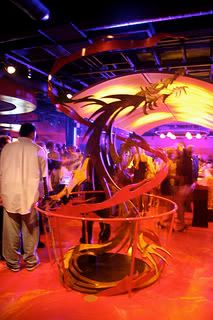 Last night was the opening of Lalita, a new Monday club at Fury, and Leslie (Le Receptionist) came along with me to provide her brilliant photography skills. This was my first time going to Fury, and weekday night clubs are always questionable in terms of awesomeness. Sometimes they absolutely go off, like Call Sick, and sometimes they sink (I won't name anybody). Really, it's either hit or miss.
"So, what kind of music?" Leslie asked me. I have no idea.
"What's the crowd like?" Beats me.
Basically, we were venturing into uncharted waters. Whatever: It was Monday night, and there was nothing better to do.
I said, if it sucks, we'll go eat somewhere.
Suck it did not. In fact, I'm putting Lalita in the "absolutely goes off" category.
It was packed, and there was a line of hopefuls outside waiting to get in that snaked around the building. All the waitresses wore little red kimono minidresses, which was a cute touch, and the bartenders were heavy-handed with the alcohol.
Being in Newport, I was afraid the crowd would be rife with the typical spray-tans-and-silicone uppityness, but it was actually pretty chill. The invitation said, "Dress to Impress," which everybody did, but there was a relaxed attitude hovering over the black suits and slinky dresses.
The dance floor could be bigger, but it didn't matter. For the first few hours, it belonged to the breakdancers anyway.
One wall was covered in a checkerboard pattern of screens that shifted from shot to shot of grainy black-and-white photography. It was so visually delicious I almost didn't realize some of the subjects were Lindsay Lohan and Avenged Sevenfold. Almost.
Everything was lushly decorated with black upholstery and Eastern red accents. The club's layout swept downwards, pulling you toward the central bar, aglow with red light shining through hundreds of neatly lined bottles. It looked like it was on fire.
If you like this story, consider signing up for our email newsletters.
SHOW ME HOW
X
Newsletters
You must, must, must check out Leslie's slideshow!
The ambiance was spectacular, but it was those divine DJs Echo, Peanut and Peter G who took it to the next level. It was right after I had ordered my first vodka tonic that I noticed that laced behind the very current beats was . . . New Kids On the Block. Yes, they were actually spinning NKOTB. It didn't stop there, either, and the rest of the night's musical itinerary was heavy with masterfully done remixes of old-school hip-hop and Top 40. Lil' Kim, ODB, Kriss Kross!
By the time we left, it was only a few hours before Leslie and I had to be back at the OC Weekly office. That's the thing about going to a club during the week: It's easy to forget that it's still during the week. But regardless of my lack of sleep and slight dehydration, Lalita makes the most dreaded of all weekdays a little groovier.
Lalita at Fury, 4221 Dolphin-Striker Way, Newport Beach. Every Monday. Call for time.