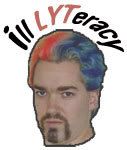 [Part one of an ongoing series of reports from the Los Angeles Film Festival]
Parking spaces in Westwood are like special offers in spam emails -- if you think you've got a good one, it's almost certainly too good to be true. So naturally, the super-sweet street space I pulled into at around 5:45 p.m. turned out to have a malfunctioning meter. Sensing a premiere night, some of the local parking lots were upping their rates to $20, but the good old reliable basement of Rite-Aid was still only $5.
The premiere gala to kick off the 2007 L.A. Film Festival was at the Mann Village Theater, and one of the perks of being on staff at a reputable publication is that one actually gets to go to the big opening show. Without being patted down by security, even, though I'd left my brand-new, ultra-cheap cell phone in the car. My companion had left her camera in the vehicle, and immediately regretted it when we realized no husky suited folk were going to seize it.
Minimal remarks to start the show, which was a nice change -- perhaps with the sponsors' logos projected on the big screen, there was less need to name them all, and the festival organizers realized we weren't there to see them. So instead, Andy Garcia comes out, sounds dazed, and introduces director Kasi Lemmons, who promptly says, "Don Cheadle, you gonna help me out?" He does.
Lemmons, on Focus Features: "They're a great company, and they make great movies. How many studios can you say that about?"
Cheadle: "One."
After Kasi name-checks every single crew member in attendance, much to the disgruntlement of some old-sounding dude somewhere behind me, it's time for the movie...
TALK TO ME
The timing of this film is just about perfect -- goons like Don Imus could learn a thing or two about the real power to shock on the radio, and do so in a positive way, from watching the true story of Petey Greene (Don Cheadle), an ex-convict who becomes a Washington deejay. Speaking his mind in controversial and entertaining fashion, Petey quickly becomes a hit with the working class African-American population, and serves as a beacon of hope and calm to rally around when Martin Luther King Jr. is shot, and the city streets literally burn with black rage.
The film stars two of the best actors today -- Cheadle and Chiwetel Ejiofor -- and two of the worst -- Cedric the (Alleged) Entertainer and Mike Epps. Fortunately, Epps hardly says a word, Cedric is basically there for one joke, and Cheadle and Ejiofro are the stars at the top of their game. The latter plays Dewey, the producer who risks everything to give Greene a forum, then tries to make him an even bigger superstar, a "King of All Media," if you like, though Greene was far less into the idea than Howard Stern would be many years later (the movie implies he could have been at that level of celebrity had he wanted it). The story spans approximately 20 years, indicated by ever-morphing configurations of facial hair on Dewey and Petey -- seriously, their mustaches are the REAL Transformers of summer cinema. The first half of the movie is almost pure comedy, some of it undoubtedly from actual Greene routines, others from screenwriters Michael Genet (She Hate Me) and Rick Famuyiwa (Brown Sugar)...the fact that this screenplay is easily the best work for both suggests the influence of Greene, who can be seen doing his thing for real on Youtube, here.
If you like this story, consider signing up for our email newsletters.
SHOW ME HOW
X
Newsletters
Once the King assassination happens, things take a turn for the somber, and Greene's alcoholism goes from funny to...not. But it stays with you, and only because the movie makes one laugh so hard at first is it able to threaten to evoke real tears. Dare one suggest Oscar noms for both leads? With Ejiofor, and I have said this on many occasions before, it is only a matter of time. This will put him on the map for people who never saw Serenity or Kinky Boots, at least.
Talk to Me is Kasi Lemmons' strongest film to date. Eve's Bayou was nothing special, and The Caveman's Valentine's most notable contribution to cinema was the sight of Samuel L. Jackson's schlong (to save you a rental: there is a muthafuckin' snake in his muthafuckin' pants). But this, while admittedly not the most excitingly directed movie, takes two greats, gives them tight material, and stays out of there way while they rock it.
I didn't linger too long at the after-party -- L.A. film editor Scott Foundas offered a useful reminder that many of the lots, including mine, close at midnight. But I will say this -- as long as I can remember, LAFF parties have only served free vodka and beer, and little else. Tonight: tequila, 12-year-ol scotch, gin, Maker's Mark...the works. Is that what Optimus Prime's money can buy? Yes, it's controversial that the Transformers premiere is part of an ostensibly independent fest. But since it's the one thing I don't get to go to, one can easily pretend it doesn't exist.
Except when the trickle-down effect leads to better catering. Thank you, Michael Bay.