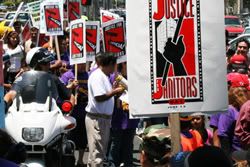 Several hundred supporters of International Justice for Janitors Day gathered outside South Coast Plaza today for a good old-fashioned Orange County juxtaposition.
Clad in purple t-shirts, and armed with homemade shakers and noisemakers, the group met for a rally followed by a march down Sunflower, past the OC Repertory Theatre, across the bridge over Bristol St., and back to the Plaza parking lot.
The group, comprised of South Coast Plaza janitorial staff and supporters, were rallying in support of the low-wage workers' current attempt to form a union with the Service Employees International Union, and were commemorating the apparently internationally celebrated, "International Justice for Janitors Day."
Although the protest was peaceful and relatively orderly, the gaggle of bullhorned protestors were tailed by a very beige, very unmarked, very conspicuous Ford Crown Victoria occupied by men in suits wearing aviator sunglasses. Upon approach, the men sped away, and were unable to give comment.
There were additional demonstrations of the same variety taking place today in Los Angeles, San Diego, Palo Alto, Houston, Chicago, New York City, Boston, Philadelphia, and Washington D.C.
If you like this story, consider signing up for our email newsletters.
SHOW ME HOW
X
Newsletters
Check out photos of the march here.