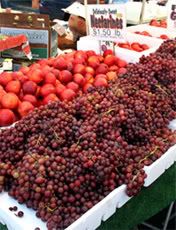 Food, glorious food! And it's all organic! You can hear the farmers (there are about 70 of them) proudly boasting of how fresh and delicious their products are. A hilarious Calypso drummer freestyles random verses — singing about you as you pass by. The sights and smells begin to flutter all around you. Inhale. Exhale. Paradise!
It's Saturday, and things are buzzing at Irvine Certified Farmers Market. Just one small sampling of delectable and fleshy white nectarines could be addictive! The farmers know this, as many of their stands offer trays of full-flavored, heavenly produce — bountiful in color and savory in smell. Their hands of children and adults alike dart to grab a piece of that tasty color.
We ain't just talkin' fruits and vegetables here, but an array of other tempting items to seduce the senses. Take, for example, an armful of vibrant, glowing sunflowers or a slue of charming daisies. Still hungry for something other than fruits or veggies? Various choices of zesty cheeses, aged to perfection, are available to sample, along with health-conscious freshly baked goods.
Do you have an appetite for something not edible? Then perhaps you will find something to spice up your drab wardrobe or dull living space — something not everyone else has stumbled across just yet. Want to really show your friends and family what marvelous taste you have? As part of their Arts and Crafts portion of the fair, paintings, purses, bags and hand-crafted jewelry are available for admiration and purchasing.
So whether your taste is for fashion, food or otherwise — there is truly something for everyone down at the ol' farmers market. Click HERE for photos.
If you like this story, consider signing up for our email newsletters.
SHOW ME HOW
X
Newsletters
Irvine Certified Farmers Market, (714) 573-0374. Saturdays, 8 a.m.-noon.