Huh-huh. It says "Head."
Tuesday, September 4, 2007 at 12:35 p.m.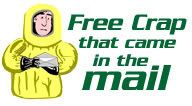 Here's a pretty stylish free shoulder bag, advertising "the first live-action series from Cartoon Network" about a boy who sees cartoon characters everywhere he looks.
I think they already did a movie about this mental condition, called "Miss Potter," with Renee Zellweger. All about how that chick who wrote "Peter Rabbit" had insane hallucinations and talked to herself, or something. I assume there'll be no mention of LSD on the show, but I could be wrong. The image on the bag sure looks psychedelic, though.
(click "Read On" link below to see the free crap)
Get the ICYMI: Today's Top Stories Newsletter Our daily newsletter delivers quick clicks to keep you in the know
Catch up on the day's news and stay informed with our daily digest of the most popular news, music, food and arts stories in Orange County, delivered to your inbox Monday through Friday.
Recommended for You
Powered by SailThru