Hu-what? Internet killing porn?
Sunday, June 3, 2007 at 8:06 a.m.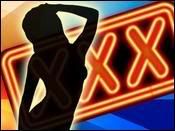 The poor porn industry is suffering. And the once-wonderful World Wide Web is to blame, reports The New York Times.
Well, more like the free or über-cheap porn that's now so rampant online. Cheaper digital equipment's inspiring a new breed of amateur pornographers, and nationwide porn revenues—which were in the $4 billion range for 10 years—dropped to $3.6 billion just last year. That's expected to fall even more by the time this year's through.
Can you see Jenna Jameson and co. begging, Madonna-like, for the end of Net piracy? Update: In other news, guess who's late for the party? The Daily News is doing a multipart series on porn and calling it "The (San Fernando) Valley's secret industry." Umm. Worst kept secret. Ever.
Image: CBS News
Get the ICYMI: Today's Top Stories Newsletter Our daily newsletter delivers quick clicks to keep you in the know
Catch up on the day's news and stay informed with our daily digest of the most popular news, music, food and arts stories in Orange County, delivered to your inbox Monday through Friday.
Recommended for You
Powered by SailThru