How Not To Rob A Bank in 2007
Wednesday, October 10, 2007 at 8:01 p.m.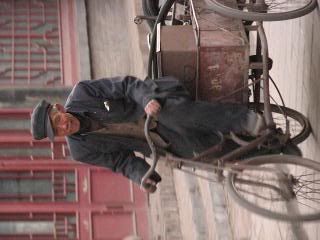 According to police, James Bruno Rocha, 56, pedaled a bicycle 25 miles from Santa Ana to the Wells Fargo on Rancho Santa Margarita this morning before lunch, cased the joint in one outfit and returned 10 minutes later dressed as a construction worker.
The robbery might have worked but a teller thought Rocha's first visit was suspicious and put the bank on alert. Ten minutes later, police say, the bandit re-entered the bank, held up a teller and walked into the waiting arms of two Brinks armored truck guards.
Rocha had planned to escape with the loot on a bicycle.
Before deputies with the Orange County Sheriff's Department arrived, Rocha wrote an apology note to the teller. He said he hoped he hadn't frightened her. Touching.
Rocha is a fugitive on a felony theft case from June. In 2002, he was convicted of receiving stolen property, possession of narcotics and destorying evidence. He won a two-year prison sentence that apparently didn't make a lasting impression. Using a different name, Gilbert Cervantes, Rocha also has drug convictions.
Get the ICYMI: Today's Top Stories Newsletter Our daily newsletter delivers quick clicks to keep you in the know
Catch up on the day's news and stay informed with our daily digest of the most popular news, music, food and arts stories in Orange County, delivered to your inbox Monday through Friday.
Recommended for You
Powered by SailThru