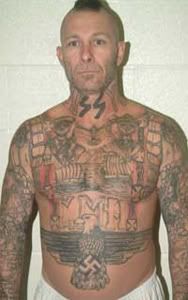 Billy Joe Johnson, Orange County's most infamous white supremacist and killer, inched closer this week to San Quentin State Prison's Death Row.
Deputy District Attorney Ebrahim Baytieh charged Johnson (pictured) with the lying-in-wait 2002 murder of a fellow Public Enemy Number One (PENI) Death Squad member in Anaheim.
In July, a jury convicted Michael Alan Lamb and Jacob Anthony Rump for the killing. But during the trial Johnson tried to save his friends from convictions by claiming he alone shot Scott Miller in the back of the head. The attempt failed perhaps because Baytieh got Johnson to admit he'd never fired the murder weapon. He quickly realized his mistake and said he'd fired it once.
Johnson, a Costa Mesa-native who fell out of favor in the Nazi Low Riders, has been trying use the tardy confession to score points in his new gang, according to Baytieh. If true, the plan backfired. Baytieh plans to use his testimony against him.
If you like this story, consider signing up for our email newsletters.
SHOW ME HOW
X
Newsletters
The District Attorney's office hasn't officially decided to seek the death penalty against Johnson if he is convicted. A jury was split on sending Lamb to death. On Aug. 31, Rump faces a potential life in prison sentence.
Baytieh, one of the most skilled homicide prosecutors in California, believes that Johnson drove the murder victim to an apartment complex ambush after a Costa Mesa party. Rump and Lamb waited on a Meth high with lofty dreams of gangland grandeur and, sadly, a 9mm handgun. The duo was caught three days later--still high out of their minds--in a stolen car and carrying the murder weapon.
Johnson, 44, is currently serving a 45-to-life sentence for the ambush, hammer murder of a young man in Huntington Beach in 2004. In 1983, he burglarized a house. In 1989, he committed robbery. In 1995, he assaulted another inmate. A few years ago, Orange County jail deputies found him with Meth in his cell (wonder who brought that inside; any guess deputies?) and beat him severely for allegedly not obeying their orders.
PENI gang associates--who color their entire bodies in pro-Hitler tattoos--tell the Weekly that their intentions are misunderstood.