Gracias, John & Ken, and Screw You
Tuesday, November 6, 2007 at 9:46 a.m.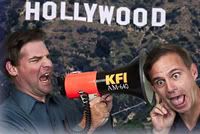 Outside of the Weekly, no media outlet has been more brutal on Orange County Sheriff-Coroner Mike Carona than The John and Ken Show on KFI-AM 640. The boyos have taken time off from railing about Reconquista to mock Carona, his political advisor Mike Schroeder, his wife Susan Kang Schroeder, and anyone who's stupid enough to defend the sheriff. JohnKen are so angry about Carona that yesterday they mulled whether to devote one hour of their show every day to Carona's many sexy escapades until the Little Sheriff resigns. Best part of it: If they decide to follow through, JohnKen will read mostly from the work of our own R. Scott Moxley (not theirs), whom the radio bros effusively (and rightfully) praised and plugged yesterday while reading from this gem. Hear the clip...well, here. Just one bone to pick with JohnKen: they described us as one of those alternative weeklies "that no one reads." Hey, pendejos: that's the same crap idiots try to pull when they know our news team is on the scent—and look at what happens to them.
Get the ICYMI: Today's Top Stories Newsletter Our daily newsletter delivers quick clicks to keep you in the know
Catch up on the day's news and stay informed with our daily digest of the most popular news, music, food and arts stories in Orange County, delivered to your inbox Monday through Friday.
Recommended for You
Powered by SailThru