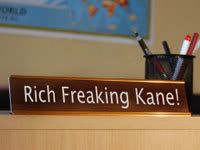 Our very own lovable and cuddly ME, Rich Kane, is receiving an award tonight for the fabulousness of some pieces he wrote about toxic waste while at the Inland Empire Weekly.
The Center for Community Action & Environmental Justice will present him with the Dr. Zweig Health Advocate Award tonight during their 30th anniversary celebration in Riverside.
Congrats Rich!
OK, you can clap now.