Give Disney Some of its Own Medicine!
Wednesday, August 15, 2007 at 9:29 a.m.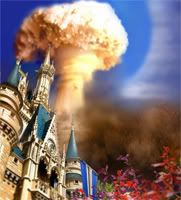 While Anaheim residents desperately try to break the stranglehold Disney officials have on the town, some geeks recently announced the relaunching of an anti-Disney game.
In Los Disneys, the company has taken over Florida. "Your job," according to the press release, "is to infiltrate the Magic Kingdom, blasting your way through animatronic pirates, holographic ghosts, tourists, security guards and even Mickey himself in an attempt to seek and destroy the frozen head of Walt Disney. However, doing so inadvertently triggers Eisner's doomsday device... unless you can stop it."
Sounds like a fun game, but I wouldn't know--seems like more of a Comic-Con geek thing. Me? I'm more of a conspiracy nerd.

Get the ICYMI: Today's Top Stories Newsletter Our daily newsletter delivers quick clicks to keep you in the know
Catch up on the day's news and stay informed with our daily digest of the most popular news, music, food and arts stories in Orange County, delivered to your inbox Monday through Friday.
Recommended for You
Powered by SailThru