Gay Heroes
Wednesday, August 8, 2007 at 12 p.m.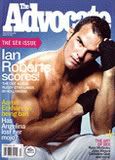 Got any?
If so, be sure to vote for 'em at The Advocate's 40th Anniversary Heroes poll. Forty GLBT faces will be selected for the anniv. issue.
Some folks on the list:
Elton John, Ian McKellen, Harvey Milk, and former OC boy, the Rev. Mel White.
Get the ICYMI: Today's Top Stories Newsletter Our daily newsletter delivers quick clicks to keep you in the know
Catch up on the day's news and stay informed with our daily digest of the most popular news, music, food and arts stories in Orange County, delivered to your inbox Monday through Friday.
Recommended for You
Powered by SailThru