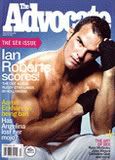 Got any?
If so, be sure to vote for 'em at The Advocate's 40th Anniversary Heroes poll. Forty GLBT faces will be selected for the anniv. issue.
Some folks on the list:
If you like this story, consider signing up for our email newsletters.
SHOW ME HOW
X
Newsletters
Elton John, Ian McKellen, Harvey Milk, and former OC boy, the Rev. Mel White.