Free Crap That Came in the Mail
Friday, June 15, 2007 at 3:49 p.m.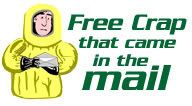 Having previously sent me an entire handbag full of their skin-care products, Vichy are at it again. I didn't do a feature on them, and I'm not planning on one any time soon, but clearly, they don't mind.
Inside a rather large box came a medium-sized gift bag, stuffed with colored paper, and...a solitary tube of sunscreen. (See the latter behind the cut.)
Sunscreen, I can use. I still haven't figured out what the point of having ten different moisturizers is, though.
Get the ICYMI: Today's Top Stories Newsletter Our daily newsletter delivers quick clicks to keep you in the know
Catch up on the day's news and stay informed with our daily digest of the most popular news, music, food and arts stories in Orange County, delivered to your inbox Monday through Friday.
Recommended for You
Powered by SailThru