Don't Taunt Me Like That
Tuesday, August 21, 2007 at 3:46 p.m.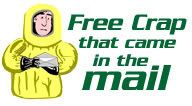 When a fast-food-type bucket says "Fried Dynamite" on it, I expect it to deliver. Pay attention, OC Fair vendors: balls of fried dynamite sauce (that spicy cooked mayo that sushi restaurants tend to serve scallops in) would be a great greaseball snack.
But the only food in here was...four atomic fireball candies, which Janine and our receptionist Leslie nearly came to blows over (Balls of Fury?). The temporary tattoos, not so much.
Nor is Fried Dynamite the long-lost drug-addicted sibling of Napoleon. Dang! Apparently it's something on Cartoon Network.
And those kids on the bucket -- frightening.
(free crap behind cut)
Get the ICYMI: Today's Top Stories Newsletter Our daily newsletter delivers quick clicks to keep you in the know
Catch up on the day's news and stay informed with our daily digest of the most popular news, music, food and arts stories in Orange County, delivered to your inbox Monday through Friday.
Recommended for You
Powered by SailThru