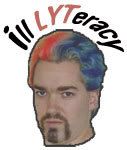 I love malls. Always have. So the grand opening of a new one gets my attention. This morning's grand-opening ceremony for The District at Tustin Legacy was a must-attend; apparently, it's the first new mall to open in the county in a decade, or so they say. Much like this publication, it's partly run by a company out of Phoenix, but going for local flavor. (Which makes it kinda funny that it's called The District.)
The Phoenix company is named Vestar. Every time someone said it, it sounded like "Death Star."
The idea of the mall is that it's one of these new, hip, outdoor shopping places à la The Block, but surrounded by strip-malls of big-box stores such as Target, PetSmart and the biggest damn Whole Foods ever (it contains a wine bar and taqueria). In the background, those giant aircraft hangars dwarf everything.
Most of the press people here were way older than me. Probably write for the business section of something. But there was also a pretty hilarious-looking cameraman—name tag reading simply, "Willie!"—who resembled a heftier, older version of the Crocodile Hunter. Later on, he somehow managed to change clothes.
In 80-degree-plus weather, it's hard to see the attraction in this mall's outdoor fireplaces. We are told that this place represents the California lifestyle, and everyone loves being out of doors, then swiftly rushed inside an air-conditioned wine bar because apparently nobody here resembles that remark. There's not a lot of shade outside.
The District's AMC Theater has 14 screens, which seems reasonable. The Block stretches it too far with 30.
Music is constant, from video walls blasting Avril Lavigne to other sources I can't pinpoint. Like Muzak in old-school malls, it seems designed to prevent one from thinking too hard.
If you like this story, consider signing up for our email newsletters.
SHOW ME HOW
X
Newsletters
Some of the stores here: Hot Topic, Sunglasses Hut, Borders, Heavenly Couture, Johnny Rockets, Sport Clips (described as a place for "providing men and boys with salon services in an exciting sports environment"; be interesting to see if that concept takes off), Zumiez . . . and they said something about putting in a bowling alley. There are two courtyard areas where bands can play and stuff like that; there's also a koi pond, which I'm not sure I've ever seen at a mall before. Fashion Island, maybe, but not a populist mall.
Anyway, the main reason I was there was, as usual, for free food — samples from vendors throughout the complex. J.T. Schmid, a brewery/restaurant, showed the most stuff, with barbecue ribs (decent, but a bit too fancy and California cusinie-ized), ahi wontons (good) and an odd salad that looked like a dessert (greens topped with crumbled blue cheese, raspberries, blackberries, candied walnuts and raspberry vinaigrette). And in a strange ethnic crossover, a Caribbean restaurant, Chaparosa Grill, offered banoffee pie, a dessert I've only ever had in England ("banoffee"=banana+toffee). Another one: crab cakes from a place called The Auld Dubliner. I lived in Ireland for 12 years and never once had crab cakes there. But I notice The Aul-Dub does have chips with curry sauce on the menu, which is so totally an Irish post-alcohol food, but rarely seen on pub menus over here.
Live entertainment was provided by a pretty young lady named Stacy*Clark (yes, asterisk intentional), playing to a crowd of exactly one, but with her music piped through the whole event. She told me she didn't mind being background music — for her, it's not about being a star, though she will be appearing in an upcoming horror movie about zombies and clowns, the name of which she didn't know at that moment. She plays singer/songwriter type stuff, though she closed with a cover of Sublime's "What I Got," dropping out the bad words since the mayor was in attendance, and he's, y'know, old.
This weekend, when the public opening happens, there'll be free swag bags for the first 100 people there at 10 a.m. I don't know if they're gonna be anything like the ones we were handed at the end of the event . . . but check out the pics below for a preview of what might be: