DA Determined to Send White Supremacist Killer to Death Row
Tuesday, August 21, 2007 at 8:50 a.m.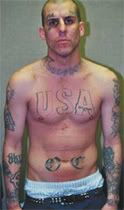 Prosecutor Ebrahim Baytieh announced this morning he will try a second time to send convicted killer Michael Alan Lamb, 33, to San Quentin State Prison's notorious Death Row.
An Orange County jury convicted the Public Enemy Number One (PENI) Death Squad hit man in July for the execution-style murder of a fellow gang member and the attempted murder of an undercover Anaheim police officer. After the penalty phase of the trial, the panel heard testimony about Lamb's vicious adult personality (from the prosecution witnesses) and how sweet and abused Michael had been as a child (from defense witnesses), ultimately splitting 6-5-1 on punishment. Six jurors voted for death, five for life in prison, and one couldn't decide.
According to Baytieh, Lamb is a "heartless, cold-blooded killer" who will likely murder a guard or another inmate if given life in prison.
Superior Court Judge WIlliam R. Froeberg accepted Baytieh's request and will call a new jury next February. Until then, Lamb (pictured) will remain locked in the Orange County Jail.
As long as there is a deadlock on the penalty, the DA's office has the option of retrying the issue. In one case several years ago, it took prosecutors three tries to win the death penalty.
Lamb's 31-year-old PENI cohort in the killing, Jacob Anthony Rump, is scheduled to be sentenced by Froeberg on Aug. 31. Rump faces a maximum punishment of life in prison without the possibility of parole.
Both Rump and Lamb are covered with pro-Hilter tattoos, espouse white supremacy and claim someone else—fellow PENI gangster Billy Joe Johnson—is the real killer.
Get the ICYMI: Today's Top Stories Newsletter Our daily newsletter delivers quick clicks to keep you in the know
Catch up on the day's news and stay informed with our daily digest of the most popular news, music, food and arts stories in Orange County, delivered to your inbox Monday through Friday.
Recommended for You
Powered by SailThru