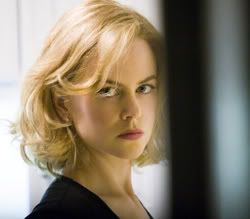 Nicole Kidman had a pre-taped greeting to promote The Invasion, Joel Silver's latest remake of the Body-Snatcher story in which the aliens are microbes this time. The interview was full of jump-cuts -- had the feel of something that was creatively edited after the fact. Nic had nothing interesting to say, just praised nearly every crew member by name. The movie is not impressive looking -- could it be the first Body-Snatchers movie to suck?
One Missed Call is a big-budget remake of a Takashi Miike movie, and looks about like what you'd imagine that entails. Really fucked-up looking demons, Zombie Jesus (yes, really. Don't ask), and scarier yet...lots and lots of close-ups of Edward Burns. The story involves an evil force that travels over cell-phones, leaving messages for you that are the audio of your death.
Shannyn Sossamon and Edward Burns are here to take questions. Someone asks about Shannyn's stint as an extra on Mr. Show, want to know "how it was working with gods walking on earth." Shannyn says it was just an extra gig at the time, she didn't really know much about it, but later had a crush on David Cross. The moral of the story is that if you're bald and nerdy, be really really funny and hot actresses might like you.
Edward Burns is asked if he's doing a sequel to Confidence. He says there was some talk until "like most of the films I'm in, it died at the box office."
Then he and Shannyn gave free iPhones to everyone who asked a question. That's one way to make people like you.
Same old teaser we've already seen for 10,000 BC was shown.
Whiteout, the new film from Joel Silver's Dark Castle genre label (which usually makes pretty lousy movies like House on Haunted Hill), is based on an award-winning graphic novel by Greg Rucka. Set in Alaska, it's a murder mystery -- looks a bit like a big-budget version of Larry Fessenden's The Last Winter.
Joel Silver has on a hideous pale green sportcoat that looks like baby vomit.
Greg says he's very happy with what he's seen. Without him even telling them, they came up with scenes exactly like some of the one he wanted to in the book but didn't think would work on the page.
Director Dominic Sena responds to a young kid's question about pranks on the set by saying Kate Beckinsale was always funny, but he won't repeat her jokes, which were "too x-rated, involves her mother and dildoes and all sorts of things." Greg chimes in: "You realize that kid is like seven years old, right?"
Joel says having Kate be in a parka the whole movie was "my least favorite thing."
The movie was shot in Upper Manitoba. Asked if there were any special requirements to film there, Sena replies "stay alive."
Joel goes out of the room, and comes back with Kate Beckinsale. Pretty much every question asked of her is a variation on "how was this different from Underworld?"
"I slept with the director way fewer times." "I was allowed to use my own teeth." Asked if she'd ever be a Bond girl, Kate says "I do feel I've embarassed my daughter enough." She feels she doesn't want to do scenes in underwear any more, and thus isn't interested in Wonder Woman either.
Audience member asks if it's harder working with a greenscreen, or learning Shakespeare?
She replies: "It's hard yelling at a stick." Dominic replies "That's Julia Roberts!"
If you like this story, consider signing up for our email newsletters.
SHOW ME HOW
X
Newsletters
It's time for the question my little brother would ask:
Joel Silver, you've worked with Bruce Willis and Mel Gibson. If they had a fight, who would win?
Silver: "I WOULD!"
Trailer for Trick 'R Treat -- horror movie set on Halloween, has Dylan baker being creepy, but it isn't clear what the evil force is -- living jack o'lanterns? Werewolves? Vampires? Dylan Baker? Visual style is a bit like Monster House, but live-action, which I say Monster House should have been to begin with.