Comic-Con 2007: It figures, Dr. Jones
Friday, July 27, 2007 at 3:59 p.m.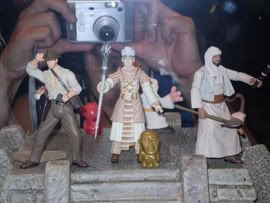 Hasbro just unveiled the new Indiana Jones figures, all three based on Raiders of the Lost Ark (Indiana Jones, Ceremonial Belloq with Idol, and Sallah). They're Star Wars scale, with high articulation (the only one not fully-posable is a version of Indy with whip-cracking action) and attention to detail.
The line will be launched with a mix of figures from Raiders and the new fourth film, but Temple of Doom and Last Crusade will be represented later. "No comment" on vehicles, but they do not have the old Kenner molds any more.
Photo to come later tonight. Photo's in.
I asked Mattel if their DC movie rights include Watchmen. The guy at the booth said he didn't know, but hoped so.
Get the ICYMI: Today's Top Stories Newsletter Our daily newsletter delivers quick clicks to keep you in the know
Catch up on the day's news and stay informed with our daily digest of the most popular news, music, food and arts stories in Orange County, delivered to your inbox Monday through Friday.
Recommended for You
Powered by SailThru