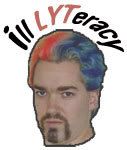 Bed at 2 a.m. last night. Up at 7 this morning for a breakfast in honor of the upcoming movie Death Sentence, based on a novel by the author of Death Wish, and directed by James Wan (the original Saw).
Unsurprisingly, the movie looks exactly like what you'd expect from the director of Saw doing a Death Wish-type movie. Which is good news, though some will cry about the violence. Lots of crazy shotgun blasts in the footage shown. Like, LOTS. The tagline could be "Oh yes. There will be shotgun blasts." And unlike Dick Cheney's pal, these people are not okay afterward.
Kevin Bacon stars, and was supposed to show for breakfast, but was delayed. But Garrett Hedlund's cool, even if you can't do six degrees of him. His most recent role was as a Mormon virgin opposite Lindsay Lohan in Georgia Rule.
Hedlund plays the evil gang leader, and said most of his "gang" were middle-aged stuntmen -- in order to be the alpha dog, he'd occasionally throw a glass at the bar when he wasn't supposed to, and made them think he was a li'l crazy. Studied lions to get the "king of the jungle" feel, character has Aborigine tattoos (inspired by Aussie James Wan).
If you like this story, consider signing up for our email newsletters.
SHOW ME HOW
X
Newsletters
He's not bothered by obsessed or crazy fans identifying with extreme characters like this -- says "It'll only give me more people who got my back in a sticky situation!"
One clip we saw shows the murder of Bacon's son. Very unsubtle foreshadowing includes a "dead end" street sign, and Bacon jokes on the phone to wife that their son is goign to Canada and "We'll never see our son again."
I didn't catch that as foreshadowing at first, but two reporters at my table did -- pointed out that a parent would never say that, even as a joke.
James Wan says that for parents, this movie will be a "cinematic outlet for the darker, pent-up human emotion."