Chris Cox Finally Speaks The Truth!
Monday, September 3, 2007 at 7:41 p.m.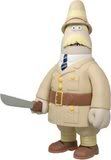 For more than a decade, I've slammed Christopher Cox, the current chairman of the Securities and Exchange Commission (SEC), for a long list of political misdemeanors.
Cox has a shameful record of representing the financial interests of the elites, but if Jeremy Grant with FT.com is right, the ex-Newport Beach congressman is finally showing a hint of populism.
According to Grant, Cox recently said that shareholders "should not need a machete and a pith helmet to go hunting for what the CEO makes."
It took years, but we've finally got a great quote from Cox.
The SEC is trying to pierce corporate America dishonesty about CEO pay and perks. In some cases, publicly-traded companies have hidden pay of $200 million or more in a single year to one executive.
Get the ICYMI: Today's Top Stories Newsletter Our daily newsletter delivers quick clicks to keep you in the know
Catch up on the day's news and stay informed with our daily digest of the most popular news, music, food and arts stories in Orange County, delivered to your inbox Monday through Friday.
Recommended for You
Powered by SailThru