Children's Dreams Splattered Across 5 Freeway
Friday, June 8, 2007 at 3:06 p.m.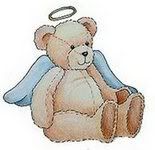 Oh, God, it was awful.
There I was, driving home, around 6:30, on the I-5 South. There is almost always traffic, but I noticed it was especially congested yesterday. Whatever—I only had a couple exits to go. So as I inched along, the cars in front of me were merging away from the middle lane. We've all see it before: A nasty old piece of furniture falls off a moving van, or some truck loses a box of something.
But not yesterday.
As I approached the scene, I was horrified to see . . . dozens of teddy bears sprawled across the freeway! Little bits of pink and blue fluff flying across the gravel! Their little smiling faces being ripped apart, caught underneath the tires of monstrous SUVs! It was a massacre.
And they were probably on their way to an orphanage.
Get the ICYMI: Today's Top Stories Newsletter Our daily newsletter delivers quick clicks to keep you in the know
Catch up on the day's news and stay informed with our daily digest of the most popular news, music, food and arts stories in Orange County, delivered to your inbox Monday through Friday.
Recommended for You
Powered by SailThru