Chemerinsky and Drake kiss and make up
Monday, September 17, 2007 at 10:39 a.m.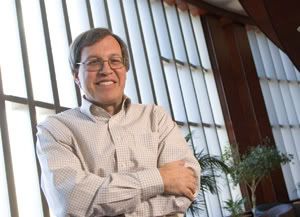 UC Irvine Chancellor Michael V. Drake spent the weekend on his knees, begging Duke's Erwin Chemerinsky to return to the dean's post at UCI's law school after Drake dumped the guy for being too liberal last week. At 10:10 a.m., the Times reported that Drake traveled to Durham, N.C. over the weekend to meet with Chemerinsky, and that the two reached an agreement last night. The deal is expected to be formally announced this morning. One has to wonder if an online petition asking Drake to reconsider had anything to do with it. Or maybe it was those calls for his resignation...
Meanwhile, the Register, which has been playing catch-up with the Times since the story broke, merely speculates about the event with the headline "UCI chancellor may be wooing fired dean." (Update: Huzzah, they caught up at 10:50 a.m. The headline on that link now reads "UCI rehires law dean.")
10:30 a.m. update: UCI just released a joint statement from the two confirming the news.
Pictured: Erwin Chemerinsky
Get the ICYMI: Today's Top Stories Newsletter Our daily newsletter delivers quick clicks to keep you in the know
Catch up on the day's news and stay informed with our daily digest of the most popular news, music, food and arts stories in Orange County, delivered to your inbox Monday through Friday.
Recommended for You
Powered by SailThru