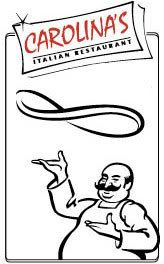 My family and I have been going to Carolina's Italian restaurant for a long time - long enough to remember the quaint, welcoming Italian family who greeted us at the door with "Come stai?" Warm smiles led us through the dimly lit room, a mandolin played softly in a speaker overhead as candles cast rings of warmth and comfort across each table... This was not the Carolina's we recalled. This particular night: Neon lights, electric lime green walls. Mood killed. However, my family and I remained optimistic - this was a special dinner, damn it, and we were going to enjoy our rare time together. We pulled out the menus as we were greeted momentarily by our plump and jolly waiter. He asks what we'd like to drink. We go 'round the table. I ask for a Peroni but I am informed that they were out. I continued to scan their incredibly diverse beer menu, but my heart was set on Peroni, not the heavy Moretti lager. To avoid holding everyone up, I looked up and smiled, "a water will be fine, thank you." He then proceeds to mock me about my choice of water instead of beer. Um, ok.
When he returns with everyone's drinks I begin to change my mind about having only water. In fact, the Italian 50/50 orange soda sounds wonderful so I order it. He tells me how terrible it is and how after failed attempts to make the soda...they had given up. He suggests other flavors but I say I'll take the water and be fine. He continues to press me to try another flavor and I literally tell him at least 3 times that I'm good. "Okay, if you say so," he retorts. Sheesh!
"Family dinner, family dinner, family dinner" I literally begin to chant over and over again in my head... We order appetizers and unfortunately they were terrible. Cold mozzarella sticks, fried zucchini that tasted as flat as Texas along with cheesy bread that I was beginning to suspect they had bought from the Little Caesar's nearby. As I fumbled absentmindedly with my piece of zucchini, I watched in awe as my mom poured half a can of creamer into her cold cup of coffee and still it remained black as coal! Had a nice oily ring skimming along the top as well. Whoa.
We ordered dinner. My sister's meal came with a side salad that she didn't want. "It's okay, I'll eat it if you don't want it." I offer. Had I broken a law? The waiter snidely explains that he is going to have to charge us full price for the salad! I had had about enough of this. My mom wasn't feeling so well ( must have been the Turpenoid coffee ) and informs the waiter she will pay for the appetizers but she is no longer interested in the rest of our order. He won't take no for an answer and thoroughly disgusted tells us that there is nothing wrong with the food. Well, ok, dear sir. Bill paid. Clueless waiter. Family hungry. Merry Christmas!
If this restaurant is as amazing as some folks swear by (even with new owners) I beg to differ. Their food and service standards were certainly on holiday this particular evening and if the appetizers were not a foreshadowing of the main dishes to come- we were not going to wait around to find out! No va bene! PS. Sorry Gustavo...
If you like this story, consider signing up for our email newsletters.
SHOW ME HOW
X
Newsletters
Carolina's Italian Restaurant. 12045 Chapman Ave., Garden Grove. www.carolinasitalianrestaurant.com. (714) 971-5551