Bootlicker Sees Visions in Jail Culture Report
Saturday, April 12, 2008 at 10:29 a.m.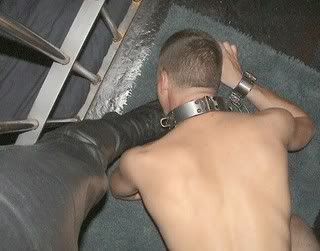 Clutching a package of velvet lace to his chest, Bootlicker elbowed by an elderly lady to get first in the checkout line at Michaels arts and crafts shop. Time was of the essence. Thirty minutes earlier, the Orange County District Attorney's office had released its "Investigative Report" on the beating death of an inmate in November 2006. Bootlicker grabbed the first copy, raced to his pickup truck and, as if God himself granted a special wish, watched as the report fell open to pages 25-26. The Orange County Register columnist, who'd spent his career fetishizing a violence-prone police state under the nom de plume Gordon Dillow, gasped. His spine shot erect. His self-styled "country" brain focused not on sentences but words: "lifeless body," "protocol," "the size," "large scale," "joint investigation," "command," and--oh-my-golly!--"homicide unit." In his mind's eye, the word "unit" grew larger and larger and larger until it was the only word he saw. Could a single word engulf a body and pulsate in hot pink? It felt that way. An appreciative Bootlicker closed his eyes, dropped a hand to his loins and imagined buttons popping—exploding in rapid fire, really—from a male motorcycle cop's uniform shirt. Underneath, a soiled white T-shirt barely masked the officer's firm nipples. Bootlicker imagined that the angry cop had just used his Billy Club on the face of a disrespectful, young man of color. A part of the Reg columnist suddenly tingled and then he grunted twice. He opened his eyes, sighed and drove to Michaels. A report this special would have to be wrapped in velvet lace.
-- R. Scott Moxley / OC Weekly
Get the ICYMI: Today's Top Stories Newsletter Our daily newsletter delivers quick clicks to keep you in the know
Catch up on the day's news and stay informed with our daily digest of the most popular news, music, food and arts stories in Orange County, delivered to your inbox Monday through Friday.
Recommended for You
Powered by SailThru