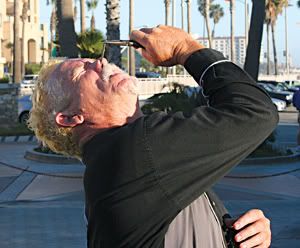 When we last spoke to "Lucky" John Domingue, the subject of this week's story Tough as Nails , he was hoping his days of fearing the Huntington Beach Police were finished.
Domingue, a street performer whose main trick involves pounding a nail into his nose, says the HBPD has harassed him nearly every time he's performed on the Pier Plaza over the past two years. According to lawyers from the ACLU Orange County Chapter, street performing is a form of protected speech and Domingue has every right to be there. Even Huntington Beach City Attorney Jennifer McGrath wrote a letter to the police informing them that Domingue has a right to perform unmolested.
Last week when interviewed by the Weekly, HBPD spokesman Dave Bunetta said the police would not mess with Domingue's show unless he was endangering the public. Bunetta was not available for comment.
So it should be a surprise, although for some reason it isn't, that Lucky John says he was run off again last Sunday.
This time, he says, police dispersed the crowd just as he was finishing the show and he wasn't able to collect donations from the audience.
If you like this story, consider signing up for our email newsletters.
SHOW ME HOW
X
Newsletters
So will Domingue give up and just accept that the Bill of Rights doesn't apply to Huntington Beach? Hell no, he says. He plans to return this weekend, so show up and support this unlikely First Amendment warrior with a five spot.