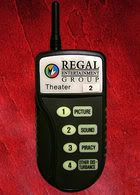 Regal Cinemas has just announced a new program called the Guest Response System. Selected cinema patrons, all of whom are members of the Regal Crown frequent-customer rewards program, are given a paging device with four buttons to take into the auditorium. If a problem arises, they can press one of the controls to indicate an issue with (a) sound, (b) picture, (c) piracy, or (d) other disturbance. The manager will then immediately be alerted.
Category D really leaves it wide open, though, doesn't it? Seat-kicking, gratuitous LED-screen lighting-up, loud food-wrapper-rustling, feet up on seats that make the whole row vibrate every time the moron responsible shifts position, phone conversing, out-loud-stupid-question-asking, glass-bottle dropping and rolling, stinky booze sneaking, loud snoring . . . we can't be more specific?
Oh, well, it seems like a good idea. At least until some of the dumb-asses responsible for most of the disturbances in the first place get a hold of them and start paging the manager every five minutes for their own puerile amusement.
Local cinemas putting the program in place include the Irvine Spectrum 20 and the Anaheim Hills 14.
If you like this story, consider signing up for our email newsletters.
SHOW ME HOW
X
Newsletters
(Thanks to MovieCityNews, who remind us that we used to have people to do such work—they were called "ushers.")