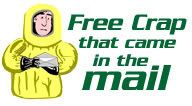 I was just the other day lamenting the drought of free crap from the mail that used to provide so much blog fodder a year ago when I was brand new here. But it seems I can always count on Cartoon Network for the goods.
I don't really know what the deal is with Ben 10, but I know they previously sent me a handheld electronic game to promote him, and now a DVD and a T-shirt to herald an "all new Ben." I've no idea what makes him all new, but check out the logo on the shirt. It looks awfully familiar...
If you like this story, consider signing up for our email newsletters.
SHOW ME HOW
X
Newsletters
Now where, oh where, have I seen something like that before? Oh yeah...