Because You're Ugly: Wear It Proud
Friday, August 24, 2007 at 3:22 p.m.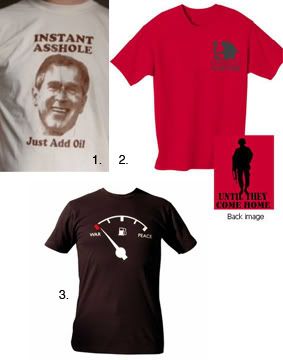 Nothing to wear to your next peace rally? Dont worry my liberal babies, mama's got you covered.
1. For the humorous: Instant Asshole Just Add Oil Tee, printed on organic material, $15.95 www.bant-shirts.com
2. For the sweet: Freedom Is Not Free Until They Come Home Tee, Each purchase made supports Freedom Is Not Free's mission to aid wounded heroes and their families, $14.99 www.freedomisnotfree.com
3. For the stylish: War Peace Gauge Tee, $30 L.A. Based www.aplusrstore.com
4. For the Im-not-fucking-around protester: Bush Lied They Died Tee, background text lists 3461 names of the fallen in alphabetical order. This shirt is currently illegal in 5 states. $22 www.carryabigsticker.com
(See shirt behind the cut.)

Get the ICYMI: Today's Top Stories Newsletter Our daily newsletter delivers quick clicks to keep you in the know
Catch up on the day's news and stay informed with our daily digest of the most popular news, music, food and arts stories in Orange County, delivered to your inbox Monday through Friday.
Recommended for You
Powered by SailThru